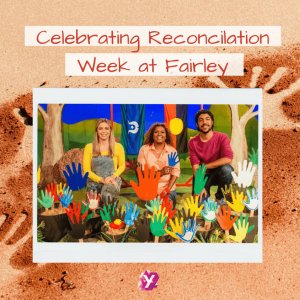 This year for Reconciliation Week, our Fairley Early Childhood Service participated in a range of activities to help the children learn about Reconciliation and engage with Aboriginal and Torres Strait Islander history, culture and art. 
Following an educational visit from local Aboriginal storyteller, Larry Brandy, our educators invited the children to learn about respecting the country and the local Ngunnawal people and the land.  
To continue this lesson, the children were then invited to watch a special Reconciliation Week episode of the educational program, Play School. While watching the show, children were introduced to the many cultural roles and responsibilities that each individual plays within their community.  
In honour of this year's Reconciliation Week theme, More than a word. Reconciliation takes action, the also children participated in a group walk together, where they were able to show their respect and support towards Aboriginal and Torres Strait Islander culture.  
To finally help wrap up Reconciliation Week celebrations, the children were invited to craft individual hand cut-outs to create a beautiful sea of hands. The hands were used to symbolise each child's engagement with Aboriginal and Torres Strait Islander issues and events.