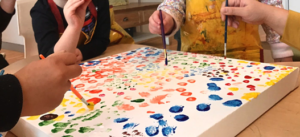 While the official celebrations for NAIDOC Week have been postponed until November due to COVID-19, educators and children at our Winyu Early Childhood Service went ahead with celebrations of Aboriginal and Torres Strait Islander cultures and histories.
This started with a discussion about the artwork on the 2020 National NAIDOC poster, Shape of Land, by Noongar and Saibai Islander man Tyrown Waigana.
The educators worked with children to explore Aboriginal and Torres Strait Islander perspectives through looking, feeling and talking about the elements in the poster: lines, dots, colours, shapes, images, patterns, and the story behind the artwork.
The children in Sky, Earth and Nambori rooms all engaged in this discussion and then expressed their own creativity and imagination, inspired by the poster. The resulting artwork from our children and educators from each room will be displayed in the reception area to share our appreciation and learning journey with the families and visitors.
This will be an ongoing process that we aim to continue through in the years to come. YWCA Canberra is committed to working towards reconciliation, including through over a decade of Reconciliation Action Plans. As part of our reconciliation journey at Winyu, we are starting to keeping a diary of what we've learnt within the service about Aboriginal and Torres Strait Islander cultures and peoples. The children will have opportunities to reflect on their past journeys and plan for future learning together with our educators. Families are also most welcome to participate!