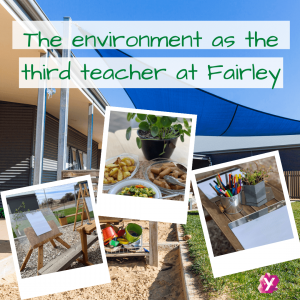 At YWCA Canberra, we implement modern theories and research that recognise and value the environment as a 'third teacher'. Behind educators and families, physical spaces hold the potential to influence what and how children learn. 
 With this in mind, the team at Fairley Early Childhood Service has been redesigning some of Fairley's spacious indoor and outdoor spaces to reflect the children's ongoing and evolving interests. The new spaces are not only warm and welcoming but are functional and designed to provide endless amounts of opportunities for the children to expand their knowledge.
The dining space is set up with beautiful and nutritional foods and tongs with opportunities for the children to serve themselves. This allows the children to recognise their hunger needs and extend on their fine motor development, hand–eye coordination and wellbeing as they explore the nutritional values of the foods that they are consuming.
The Fairley children have been exploring self-expression through various art and craft experiences. The environments the educators develop allow the children to explore and create art pieces based on their personal understanding of the world and the feelings that are involved with it.