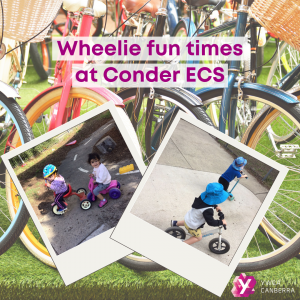 Riding a bicycle is an iconic part of childhood and a skill that, according to the old adage, will stay with you for life. It also has many developmental benefits, which is why the team at our Conder Early Childhood Service has a designated 'Bike Day' each week.
On Bike Day, children can bring their bikes or scooters and use them on Conder's 'bike track'. The day of the week rotates, so all children in the service have a chance to participate.
Engaging children in physical activities like bike riding develops their gross motor skills, hand-eye coordination and balance. It also improves their physical and mental health and supports social and emotional development as children share their bikes, take turns and engage in social interactions.
The educators at Conder also use Bike Day as a learning opportunity for the children, exploring road safety concepts such as being aware of your surroundings and the importance of wearing helmets.
Bike Day is a favourite with many children at Conder and their families.