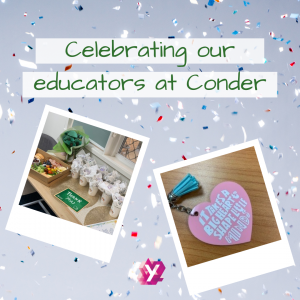 Wednesday, 1September was Early Childhood Educator's Day, and the team at our Conder Early Childhood Service celebrated all the incredible educators that help children grow and develop every day.
Families from the service sent some lovely messages to thank and acknowledge the educators. Here are just some of the beautiful things they had to say:
We have been part of Conder for four years now and I am so grateful for all the love and care provided by staff, both past and present. Thank you for your commitment to education and quality care for our young children. It is wonderful, as parents, to attend work and know that our children are happy and well cared for. Thanks for all you do.
Thank you so much to the staff at Condor for looking after [my son]. It makes me incredibly happy to send him somewhere where I know he is happy and looked after well. Every time I drop him off he has a smile and is excited.
Thank you all for the love and care you provide. After two weeks of home schooling I certainly have a new appreciation.
Thank you to all the wonderful educators at Conder. The girls are missing you all! Looking forward to getting back to some kind of normality! Stay safe and healthy ❤️🙂
Service Director Juliana ensured there were also plenty of tasty treats to celebrate with, and gave each educator a keyring with their initials made by a local business. As a delightful surprise, Woolworths at Work also sent over chocolates and flowers to thank the educators.