The todd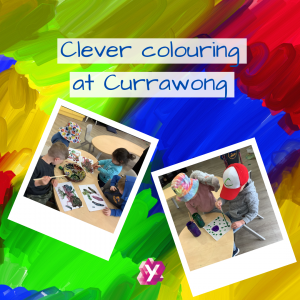 lers and preschoolers at our Currawong Early Childhood Service have been developing a keen interest in mixing colours. This started with mixing paints to try to achieve the same colours as they could see around the centre.
To engage this interest and develop the children's colour recognition skills, the educators at Currawong read books to the children on colour theory and mixing. The Early Childhood Teacher taught them about primary colours and helped the children experiment with mixing primary colours to observe the results. The children quickly noticed that even when they chose the same colours to mix, they sometimes got different results depending on the amount of each paint they used.
The Currawong educators then set up easels and tables with paint of different colours and gave the children time for free painting to express themselves. Some children painted their favourite story characters, while others decided to go with more geometric patterns. Either way, the children confidently picked the colours they wanted to use and, as they painted, discussed what they were creating with one another and the educators.
Some children decided to be a bit more adventurous and go beyond paintbrushes and easels, asking if they could paint in different containers and experiment with various tools for painting. The Currawong educators happily obliged this sense of exploration.
At the end of the free painting session, the children felt a great sense of accomplishment and proudly shared their artwork with peers, educators and families.