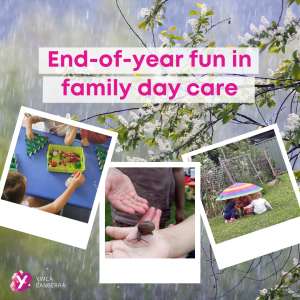 It has been a busy few weeks in YWCA Canberra's family day care services.
The children in our services have loved the warmer weather, even if it's been a bit wet! They've enjoyed getting out into the summer rain to explore the gardens and hunt for little creatures. This is a great way to help develop children's coordination and gross and fine motor skills, while cultivating their appreciation for the natural world.
The older children in our services have been undertaking school-readiness activities to get them ready to transition to school in the new year. Our family day care educators will miss the children but are excited that their educational journey is taking the next step.
And of course, the children have been getting into the holiday spirit by making presents for their loved ones. To tie in our focus on sustainability, these arts and crafts activities used recycled materials.
Over the last few weeks, the YWCA Canberra family day care team has also welcomed our new Nominated Supervisor, Navjot. The Nominated Supervisor is legally responsible for our family day care services. They ensure our services are compliant with legislation and regulations, and are implementing best practices.
Navjot has been out and about visiting our services, getting to know the educators and meeting the children. She will visit the services regularly to support continuous improvement.