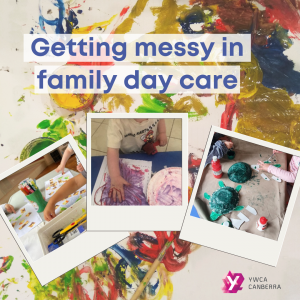 It has been a busy time at YWCA Canberra's family day care services across the ACT.
Our educators have involved the children in developing and participating in their planned teaching experiences, and have taken opportunities for spontaneous activities to apply the children's interests to their educational program.
A key focus at our family day care services recently has been developing children's creative skills. Our educators have provided the children with various experiences and resources to explore colour and the environment through hands-on art experiences, which often become messy fun: an eternal childhood favourite!
Although it's just playing to the children, these creative activities have many benefits, helping children develop their confidence, language, fine motor and cognitive skills, imagination and emotional understanding. Through these experiences, our educators encourage children to experiment and become confident and involved learners.
The educators have also been helping develop children's social skills by organising play dates across our services.