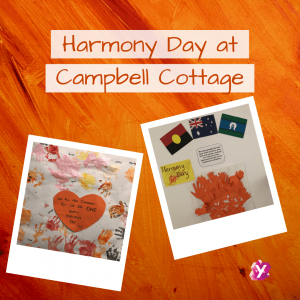 The educators and children at Campbell Cottage had a wonderful time celebrating Harmony Day on Thursday, 18 March. The centre was awash with the colour orange, as well as clothing representative of people's cultures.
Across the Cottage, the educators, families and children shared multicultural food, sang and danced to songs from around the world, and read books to learn about different cultures. 
In the Nursery room, our babies got dressed up in traditional Thai clothing that Assistant Director Sanny brought in! An Indian staff member drew Bindis on their heads and another educator showed them how to do Korean Fan Dancing. The children also participated in a beautiful craft activity that helped them celebrate and recognise the idea that even though we are all different, we are all still one together. 
The Campbell Cottage toddlers were busy learning how to dance to traditional Aboriginal and Torres Strait Islander songs, and even tried to sing along. To help support their learning about Aboriginal and Torres Strait Islander cultures, they have also been enjoying reading Dreamtime stories. 
In the Preschool room, educators and children explored the different ways that various cultures conduct celebrations. Children shared some of their favourite celebrations like Christmas and birthdays, and explained some of their family traditions. Two Indians staff members engaged children in creating a Rangoli—an art form in which colourful patterns are created on the floor using a range of different materials like flour, small rocks and coloured sand. Rangoli are used for many celebrations in Indian culture, and the children loved recreating one in our preschool room using chalk.