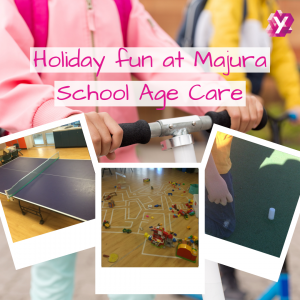 Although these holidays have been far quieter in our school age care services than usual, that hasn't stopped the team at Majura School from having a great time.
One of the most popular activities so far has been fun with science. The educators asked the children to investigate what would happen if they mixed Alka seltzer tablets and water in a film canister. In a surprise to many of the students, they created film canister rockets, which the children launched higher than the school building! The children had a blast (pun intended) while developing their scientific inquiry skills.
On a less explosive note, the children have loved getting out on their bikes and scooters in this warmer spring weather, so the Majura team held a 'wheels day' where they worked with the children to make a course and create their own road rules. Not only was this excellent for the children's physical development, but it helped them understand how road rules work and learn about road safety.
The educators and children combined craft with dramatic play by designing a city outline out of tape on the ground, then taking turns playing with the toy cars and trucks, driving them around the city and escaping from meteorites that just happened to be falling from the sky.
Musical statues has also been a hit, with children enjoying dancing almost every afternoon.
That is only a small sample of the activities at Majura, which so far these holidays have also included arts and crafts like painting and knitting, table tennis, hide and seek, lots of different board games and experimenting with Oobleck slime.
And the children still have lots to look forward to over the rest of the holidays, with plans for making tie-dye t-shirts, character face painting, building underwater volcanoes, making bird feeders, and much more!