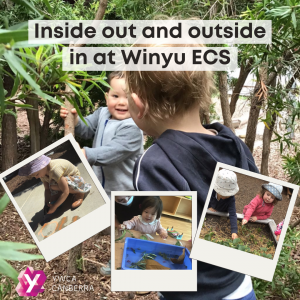 Over February, the Winyu Early Childhood Service team in Gungahlin made great use of their expansive outdoor area by incorporating it into their educational program.
The bottle brush trees were in bloom, with infants and toddlers alike playing among them, sharing laughter and curiosity at the distinctive bright red flowers. Some children also became very excited when they noticed little green strawberries forming in the garden beds, exclaiming over the find and smelling the young fruit.
The educators in the Sky Room decided to take advantage of the children's love of outdoor spaces by bringing their literacy classes outside. The team wrote each child's name on the ground and gave them chalk and a water spray bottle. The children excitedly read out each of the letters in their name, then got to erase the letters with the water and try themselves with the chalk.
The Winyu team also managed to find ways to bring the outdoors in, by incorporating natural and recycled materials into art and construction play. The children loved building houses, water slides and playgrounds with their materials.
"I built a mushroom house because this is like a mushroom". – Angus
The educators in Winyu's Nambori room encouraged the infants to engage with various types of leaves and natural materials to promote sensory learning and connection to nature. The children used paintbrushes in long strokes, tapping, bouncing and swirling motions to apply paint onto the leaves. They also explored using the leaves to make stamps.