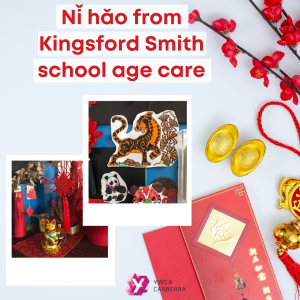 At YWCA Canberra, we take our responsibility to create inclusive environments seriously, and include a wide variety of educational programming to showcase diversity to the children within our services.
As part of our commitment to inclusion, the team at our Kingsford Smith school age care service recently celebrated Chinese New Year with the children.
Echoing Chinese cultures and traditions, the educators and children gave out hongbao: small red envelopes decorated in red and gold. Traditionally, hongbao are given at social and family gatherings such as weddings or holidays, and are particularly popular at Chinese New Year. The red colour of the envelope symbolises good luck for the year ahead.
The children at Kingsford Smith also enjoyed learning Chinese words and symbols, making red lanterns, drawing tigers (for 2022 being the year of the tiger), making traditional knot hangings, and learning how to do Chinese brush painting using rice paper.
Not only are these cultural occasions a terrific educational opportunity for children, but they also contribute to children growing up with an understanding and appreciation of cultural diversity.