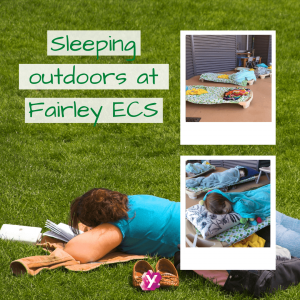 With the temperature finally rising and the sun shining as we reach the end of a Canberra winter, the Fairley Early Childhood Service team has taken the opportunity to use their expansive outdoor spaces more. This has included alfresco dining and outdoor sleeping for the children's daily naps.
Research has demonstrated several benefits of outdoor sleeping, including supporting children's immune systems, improved self-soothing which leads to more independence, and boosted cognitive and physical development due to the increased sensory stimuli.
The Fairley educators involved the children in creating their own relaxing sleep/rest environment. The preschool and junior preschool children selected the outdoor patio space to best suit their wants and needs.
The benefits of outdoor sleeping were evident almost immediately, with the children waking feeling content, refreshed and ready to engage with the afternoon's learning opportunities.