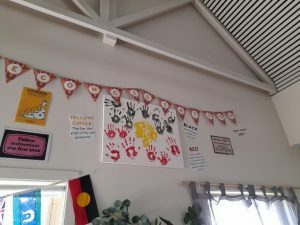 At YWCA Canberra, we believe that a concrete contribution we can make towards reconciliation is ensuring that children in our services learn about Aboriginal and Torres Strait Islander cultures and histories from an early age.
Reconciliation is a regular element of the educational programming within our children's services, both early childhood and school age care.
As part of this commitment, all of our 12 school age care services recently took part in activities to celebrate National Reconciliation Week, which embedded a deeper understanding of Aboriginal peoples, cultures and histories, as well as the importance of National Reconciliation Week as part of our reconciliation journey.
The children have engaged in Aboriginal and Torres Strait Islander themed arts and crafts displays. During these, they have learnt about the meaning behind the colours of the Aboriginal flag and learned more about First Nations peoples' traditional symbology and language.
The children have also engaged with Aboriginal music and tasted some delicious food featuring native Australian ingredients.
Here are just a few quotes from children in our services throughout the week:
• "On this day, we remember and respect the Aboriginal peoples and how they respected the land."
• "We need to treat people equally and fairly."
• "Aboriginal land is sacred to the Aboriginal peoples and they have taken care of it for centuries."
• "Aboriginal people are the original owners of this land. We have come to learn about the plants and animals of this nation, such as the dingo, kangaroo and koala. One of the most common native plants is the eucalyptus tree".