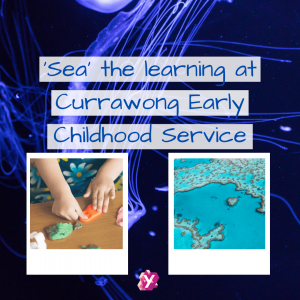 There's something about the sea and its strange and wonderful creatures that never fails to fascinate, so our educators at the Currawong Early Childhood Service have recently embarked on a journey of teaching the toddlers in the service about marine animals.  
This has included reading books about the Great Barrier Reef and using playdough to create a seascape and play with sea creatures.  
When talking about the undersea world, the toddlers at Currawong expressed interest in the beach and how much they enjoy playing in the sand and all the other things we can do at beach.  
In response, the Currawong team provided the children the opportunity to do ocean and beach painting to express themselves and what they love about the sea.