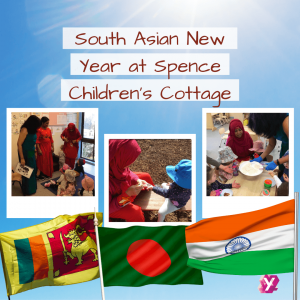 The children and educators at Spence Children's Cottage recently celebrated Sri Lankan, Bangladeshi and Indian New Year. With two educators at the centre being from Sri Lanka (Jaya and Shoma) and Indika being from India, this was a beautiful opportunity to hold an authentic multicultural experience for the children. 
Our staff members shared their traditional costumes, customs, food and new year activities, as well as memories and photos of the region. 
Indika talked about the Cuckoo bird and Erabadu flowers which are seen during new year time in Sri Lanka, and played traditional song 'Raban panda' which is a popular new year's activity. 
Francine, our educational leader who lived in Sri Lanka for more than 10 years, showed us a Sri Lankan mask and danced wearing it, then everyone danced and tapped sticks to Sri Lankan new year songs (Awurudu songs).
Indika and Jaya invited children to put an eye on elephant blind folded, a traditional Sri Lankan equivalent of 'pin the tail on the donkey'.
The food was on theme as well; our chef made traditional new year food for the day, including Kiribath milk rice, curry and wattaleppam, a traditional Sri Lankan dessert. The Kiribath milk rice was by far the crowd favourite!
Finally, some of the children got to take the experience home with them, with Shoma making henna patterns on their hands.