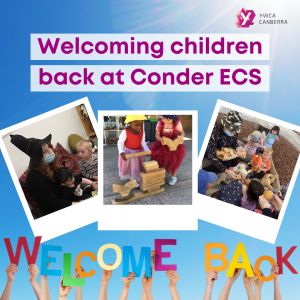 With Children's Week 2021 coinciding with the post-lockdown return of most of the children to our early childhood services in late October, the team at our service in Conder took the opportunity to celebrate! 
To make the transition back more exciting and inviting for children who had been home for over two months, the Conder team collaborated with the children from the preschool room to develop daily themes: 
Monday: Teddy bears' picnic

 

Tuesday: Dress up day

 

Wednesday: Messy play day

 

Thursday: Favourite toy day

 

Friday: Halloween party.

 
The Teddy bears' picnic included yummy muffins and fruit salad (although the teddies chose not to partake). 
The Conder team particularly loved the children's dress ups for the Halloween party. There were little vampires, witches and monsters as well as princesses, cowboys and superheroes! Some of the educators got involved, too; after all, Halloween is one of our few opportunities to play dress ups as an adult! 
All the educators are so pleased to be working with the children again and re-invigorating their learning journeys.