As part of our planned learning around First Nations peoples' history and the meaning of reconciliation, for National Reconciliation Week, the children worked on a whole array of activities, including creating their own talking sticks and participating in yarning circles. Through this activity, they were able to explore the concept of using objects to encourage an exchange of knowledge.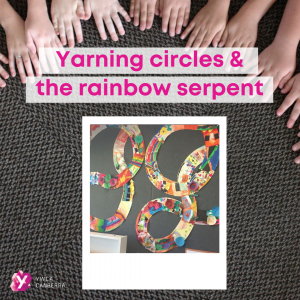 The children used twine and paint to decorate sticks they collected from their outdoor learning environment. The aim here was to encourage the children to be aware that the land they are learning and growing on has always been and will always continue to be Ngunnawal land.
There were plenty more activities, including the children making playdough in the colours of the Aboriginal flag, which they had the opportunity to experiment with after rest time.
The children also listened to the story of the rainbow serpent and enjoyed painting a big rainbow serpent cut of cardboard. They mixed different paint colours with brushes while communicating with each other and their educators.