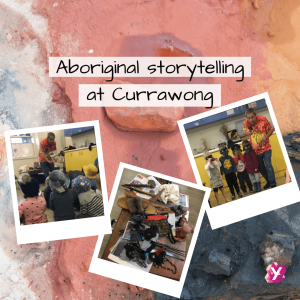 All of YWCA Canberra's early childhood education and care services were pleased to have a visit from Aboriginal storyteller Larry Brandy, a Wiradjuri man from Condobolin, central New South Wales. Larry lives in Canberra and performs storytelling throughout Australia. 
He visited the preschool room of Currawong Early Childhood Service on 6 May.  
Larry involved the children in his performance as they became kangaroos, emus and hunters and learnt about the traditional Wiradjuri culture. Children got to engage in acting out stories using masks and assuming the character of animals. 
Larry shared many Aboriginal stories and anecdotes with the Currawong children. The older pre-schoolers really enjoyed listening to the exciting and fun stories and exploring a variety of different tools that Larry brought in to share. 
Larry's visit promoted the children to ask questions relating to language and the educators have continued this by engaging in further learning about different Aboriginal languages. 
This is one part of a range of educational programming at Currawong related to reconciliation with Aboriginal and Torres Strait Islander peoples, especially throughout National Reconciliation Week and NAIDOC Week.