The summer weather has provided a wealth of opportunities for the children at Campbell Cottage Early Childhood Service to enjoy the newly refurbished outdoor environments.
A well-designed, well-organised, integrated indoor-outdoor environment gives children opportunities to develop their individual learning styles for problem-solving, creativity and resilience. At Campbell Cottage, the team ensures that children spend roughly as much time outdoors as inside regardless of the weather, in line with the National Quality Standards, the Cancer Council Australian guidelines and the YWCA Canberra philosophy that "There is no such thing as bad weather, only bad clothing".
Outdoor environments give children the freedom to move around on a large scale and to enjoy being active and engaging all of their senses. Our Educators encourage children to express their feelings and ideas, and promote children exploring and connecting with their environment and community. This helps children grow physically, intellectually and emotionally.

The preschool playground was designed with a range of areas for different interests. These include:
a yarning circle
the pirate ship with obstacle courses that the children love to climb
a garden bed to learn about growing plants and investigate living things like insects and snails
the Japanese tea house for reading and quiet activities
the dry creek with a sensory path to engage children's senses
a cubby house area for dramatic play (in which their current favourite activity is going on a bear hunt).

Some of the children's other favourite activities are riding bikes, playing at musical walls and building sandcastles in the sandpit.
"I like to ride a bike" – Oliver
"I like to play dinosaur" – Hunter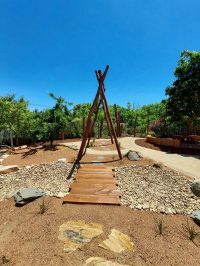 "I love to play unicorn hide and seek" – Sofia
"I want to go on a bear hunt" – Austin