It has been a busy start of the year at Winyu Early Childhood Service in Gungahlin, with some of the key teachings being around multiculturalism, sustainability and children's self-identity.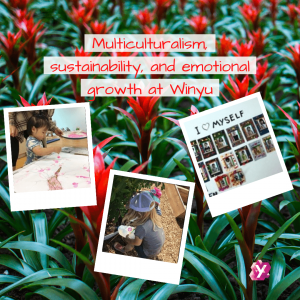 Children and educators at Winyu celebrated Lunar New Year through painting, building a cherry blossom tree, making a paper lantern, and creating a dragon. We feel it is important to embed respect for cultural diversity within the children at a young age and love to use cultural events like Lunar New Year to provide this message.  
For the National Sustainable Living Festival in February, Winyu incorporated the concept of recycling through play experiences throughout the month. This included educators promoting the use of natural materials in daily activities to raise awareness of the natural environment and how it connects with our daily lives. 
One of the greatest joys of early childhood education and care is watching children grow into their personalities and develop their sense of autonomy. That's why, in February, we focused on supporting the children to feel a sense of comfort in our learning environment and a sense of belonging in this community. This involved exploring self-identities and emotions through a variety of play, games, art and craft, and group learning to develop positive relationship with themselves and with others.