Our education and care service at Majura Primary School is proud of its reputation for being inclusive and giving children an appreciation of diversity. They love incorporating these elements into their educational programming, and the children and families love it too! 
During Majura's January school holiday program, a child in year six asked to update the service's kindness wall to promote positive body image and self-love. Throughout the holidays, educators gave the child autonomy to design the wall and worked with them to source information about body image.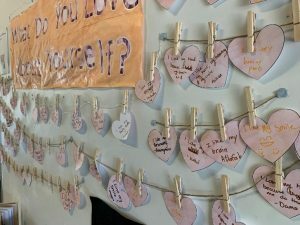 The educators created QR codes for easy access to videos about body image and its interactions with gender and mental health.  
On Valentine's Day, the Majura team used this revised wall to promote self-love! They encouraged all children to write something they love about their bodies on a heart for the wall.  
Throughout the term, children have continued to contribute things they love about their bodies and the amazing things they can do, which include: 
I love that I can run fast.

 

I love that I am strong.

 

I love my brain for my imagination and creativity.

I love my singing voice.

 

I love that I can do a handstand.

 

I like my hair, my hearing and my smile.

 

I love my belly button.

 
LGBTQIA+ pride 
For the third year in a row, the team at Majura celebrated LGBTQIA+ pride in March.  
This began when an LGBTQIA+ educator asked if the service could do an experience to celebrate pride and has grown significantly since then. Through experiences and learning opportunities, the children at Majura have gained a better understanding of personal identity and learned about LGBTQIA+ history, inequalities, and being an active ally. This has opened the door for conversations with individual children as they explore their own identities in these critical formative years.  
In 2022, the Majura team continued to build on this learning by incorporating more LGBTQIA+ events into their program. Educators helped the children explore activism by looking at protests and creating their own posters of support for the rights of trans children in schools.  
In one activity, the team and children created a wall display that follows the story of Be You by Peter H. Reynolds, which encourages children to try being all kinds of things to help them discover who they really are.