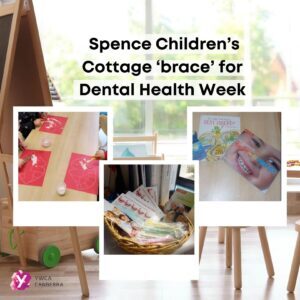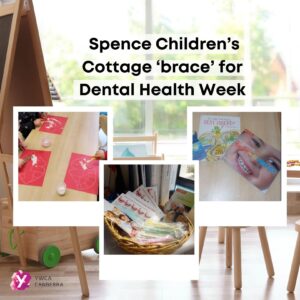 At YWCA Canberra, we love to find joy in the little things, and in teaching your children about everyday parts of life, while still making them a fun and engaging learning experience.  
Last week at Spence Children's Cottage, our educators and children had the opportunity to celebrate dental health week by participating in different dental themed activities. One of our parents, who is a Dental Hygienist, was kind enough to donate some stickers, toothbrushes and pamphlets to give out to the children.  
Throughout the week the children engaged in a range of activities that helped them learn about the importance of proper dental hygiene and dental practices. The children shared stories of their experiences brushing their teeth, and of the times they visited the dentist.   
Our educators read stories such as Going to the Dentist and The Tooth Fairy, as well as singing songs with the children about brushing their teeth. After mealtimes, the educators and children then spoke about the importance of rinsing your mouth out, to keep your mouth fresh and clean after every meal.  
Other activities that the children engaged in throughout the week included practising brushing their teeth with cardboard models and toothbrushes, learning about the 'tooth' behind decay, and roleplaying as dentists.   
The children learned lots of useful tips and tricks throughout the week to help them keep motivated and informed to practice healthy dental habits. We encouraged the children to incorporate these routines throughout their daily life so that they may maintain the bright, beautiful smiles that we get to see every day.