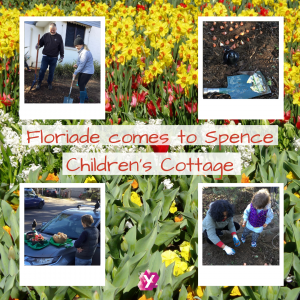 Spence Children's Cottage is excited to be part of Floriade Community in 2021! Through this program, the beauty of Floriade is spreading across Canberra thanks to the ACT Government providing bulbs and annuals for the community to plant, nurture and enjoy.
The Cottage received 700 bulbs and 600 annuals to turn its front yard into a beautiful flower bed. By September, they hope the front of the service will be bright with beautiful blooming flowers. 
This much planting is a big project, so the Spence team invited the families of children at their service to help. They were overwhelmed by how many families responded and joined the Cottage educators and families for a Saturday morning of planting. One parent even provided a delicious morning tea so that they all had the energy for the work!  
The local magpies were very intrigued by what was happening, though that might have been more about the morning tea on display. 
The team had such a fun morning and loved the opportunity to get to know the families better while improving their service. They are now looking forward to the coming of spring.