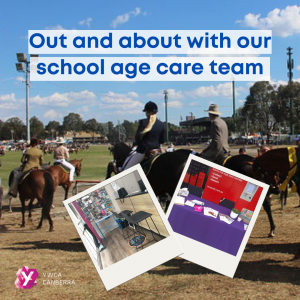 The team that coordinates our 12 school age care services around Canberra has gotten out of the office over the last week, heading to both the Canberra Show and the Australian Catholic University (ACU) Welcome Back Fair. 
At the Canberra Show from 25 to 27 February, the team continued our long tradition of staffing the lost children's facility. This is the location children are taken to if they get separated from their families. Thankfully there were no lost children at this year's show, but doing this each year is the team's way of helping the local and wider community during this major event that brings Canberra and surrounding areas together. 
The school age care coordination team also visited ACU on 1 March as the university welcomed back students for 2022. At their stall, the team engaged with ACU students about the range of employment opportunities available in our school age care services. Working in school age care is an excellent option for university students as the roles can allow them to work around class rosters. 
If you're interested in a role with one of our school age care services, please keep an eye on our careers webpage.