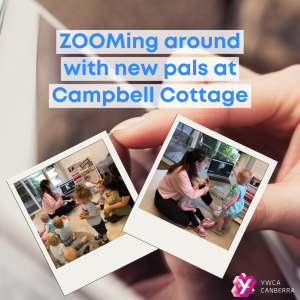 The educators at our Campbell Cottage Early Childhood Service have started incorporating digital technology to support children in building connections with their peers.
Unlike when most of us were young, technology is now an integral part of children's lives, and the pandemic has changed how children learn about their world. Our educators want to ensure the children in our services have the best start to their education, so they are adjusting their teaching strategies to reflect the times.
The Campbell Cottage team recently arranged for the children in the nursery two and preschool rooms to meet with children from a service in Sydney via Zoom. The educators set up the laptop and encouraged children to sit down together so they could all be seen on screen. Everyone introduced themselves to their new friends and waved their hands. They then shared their favourite songs and talked about their interests.
This was an excellent opportunity for children in both services to develop their social skills through access to a different community, which helps build their sense of belonging to groups, communities and the wider world.
We will be expanding this approach throughout our early childhood services and look forward to seeing what the children learn and share.